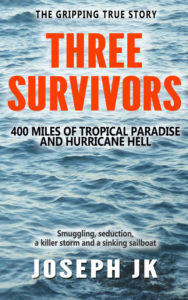 A true story of two men and a woman out of their depth on a violent sea
THREE SURVIVORS is the gripping account of a footloose traveler 3,000 overland miles from home who finds passage on a small sailboat with strangers. But what begins as an easy four-day trip turns into a terrifying fight for survival.
Landlubber Joseph JK boards the 50 year old wooden vessel, and accepts an offer of transport in exchange to help crew. The planned voyage will cross 400 miles of the Caribbean Sea and Gulf of Mexico with the boat's perky owner, Shasta, and her affable boyfriend-captain, Doug.
Departing in clear weather in an apparently shipshape boat, the author will not discover until later that he's overlooked serious warnings about this apparently easy-going couple. By then the three of them are far out on open water where the heat and rhythm of the sea, the fresh lobster and fish, frolicking dolphins and the naked flirtations of Shasta lull him into a sense of well-being. Only when a small dark patch appears on the horizon do they all sense trouble ahead.
What unfolds involves a secret cargo, a killer storm, a sinking sailboat and attempts by a Norwegian freighter captain, an inexperienced Coast Guard skipper and a massive Navy warship to try and rescue them.
This real world story of turbulence among people and the sea unfolds with surprising twists and turns all the way to the final page.
BUY IT NOW…
[contact-form-7 id="1845″ title="Notify From THREE SURVIVORS Choice"]
PRAISE FOR THREE SURVIVORS
Tense, suspenseful.

Totally infuriating!!!

Exciting and clever.

The emotions are touching and real.

I feel I'm there with the noises and pitching and anxiety.

Wow, great ending! Magical.
---
Also by Joseph JK