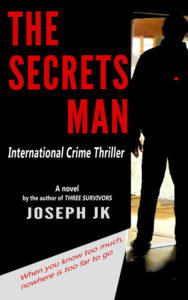 The Secrets Man
A novel
A second chance turns into a nightmare chase. Nowhere is safe and everyone is a threat.
Disgraced investigative journalist Hack climbed down from his suicide perch on the Golden Gate Bridge only to have old colleagues pull him into a baffling and dangerous case with global reach.
Badly wounded, he is forced into an international cat and mouse pursuit, struggling to stay one step ahead of a mysterious chain of killers and government agents.
The Secrets Man delivers surprises at every turn as Hack races through exotic cities and remote backwaters. Rallying his greatest strengths, he rushes to decipher, uncover and confront before time runs out for himself and those counting on him.
[LOOK FOR IT ON AMAZON.COM.]
[contact-form-7 id="1873″ title="Notify From THE SECRETS MAN Choice"]
PRAISE FOR THE SECRETS MAN
Action-filled, super-exciting and clever.

Tense, suspenseful.

So funny.

Really creepy-cool!

Beautiful insight. Atmospheric.

Suddenly we're back in a very dangerous world.

Wow! I had no idea!

Ooooh, wicked.

OMG! I wasn't expecting that!

Great plotting, great suspense, high stakes.

Ratcheting up tons of tension

Terrifying page turner

Immediate and intriguing
---
Also by Joseph JK